Posted on February 20, 2012
I'd just been checked out on Fairwind's Catalina 28, Island Side, and I was keen to share her with my family. So we planned for a quick daysail out to Santa Monica and back to see how Gabriel would react to his new PFD and the larger boat.

Posted on February 12, 2012
This was Gabriel's first official hike! Donned with a baby hiking backpack "Tatonka" (that was thoughtfully given to us by Nanna Pam), hats, a bagged lunch and some water, we were hitting the trail for the first time. Gabriel was just under eight months old and we weren't sure what to expect on this outing.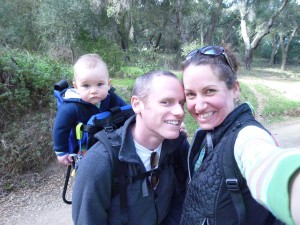 We arrived at Topanga State Park in the late morning. Gabriel had a short nap in the car and woke upon our arrival. We plunked him into Tatonka and trekked up the main path. We were rather giddy at the prospect of a successful hike because we knew if it was a success then we could start hiking again just like we did during our pre-baby days.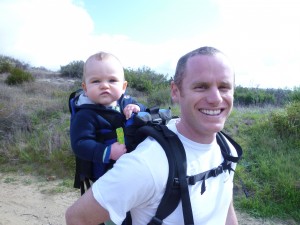 The temperature was cool and fresh and the canyon was beautiful in the late morning sun. Gabriel was calm and relaxed in the Tatonka, sitting high up on Daddy's back, and seemed to really enjoy himself looking around at the nature and other hikers. We were so stoked and wondered how far we should hike in; after all we didn't want to press our luck.
After about 45 minutes of steady hiking Gabriel started to get a bit ansy and started grumbling at us a bit so we decided it was time to take a "boob-break" and then turn around.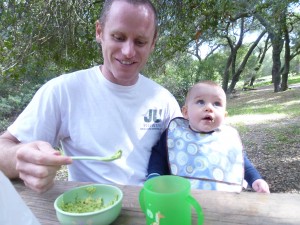 Back in the Tatonka, we serenaded Gabriel by singing his favorite song at the time, "Doe a deer", over and over and over again which seemed to do the trick and we made it back to the picnic area just in time for a lovely picnic lunch.
After lunch we walked Gabriel around the grove of trees enjoying the success of our morning before piling back in the car to drive home.
For us this experience was monumental because despite the big hopes and dreams we have for our family, we are pretty timid parents and it had taken us a long time to work up to this type of outing. Infact it took us a couple of months after Gabriel was born to just take him for a walk around the block in the stroller! So the success of this outing was a comfirmation in faith: so long as  we take our baby steps forward we will achieve the dreams in the end. And what good times we will encounter along the way!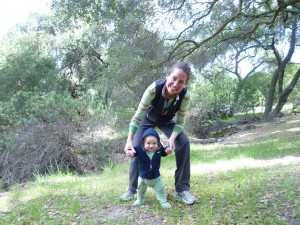 For my birthday, Gabriel and Jess came for a sail with me on one of Fairwind Yacht Club's Capri 22s, Mea Ono.  Gabriel was only two weeks old and we hadn't been out much in the preceding couple of weeks as you can imagine, so this was a very good birthday present indeed.