Hiking the Backbone Trail, Malibu
Only one week after returning home to Marina del Rey from our successful trip to Mammoth we were starved for more trail. So we turned to my book, Day Hikes in Los Angeles, for some local inspiration. We decided to make a jaunt up the Pacific Coast Hwy to a Trail in Malibu Canyon called "The Backbone Trail". This trail winds through Malibu Canyon, joining up with Topanga Canyon and ends somewhere near Will Rogers State Beach which is many miles south. However we didn't have such lofty goals! It was just our intention to go out for a lunch/day hike and see how far we got; we just simply missed being out on a trail.
We arrived at the trail head late in the morning and it was already quite hot! We hiked for about an hour with Gabriel in the Tatonka, covering about 2 miles before we had to stop and let him stretch his legs and explore. Along the way Simon nearly stepped on a rattle snake which startled us both since it immediately assumed a coil-rattle position thereafter, separating me from Simon and Gabriel on the trail. Simon stomped his feet on the trail and the snake decided to slither away. Phew!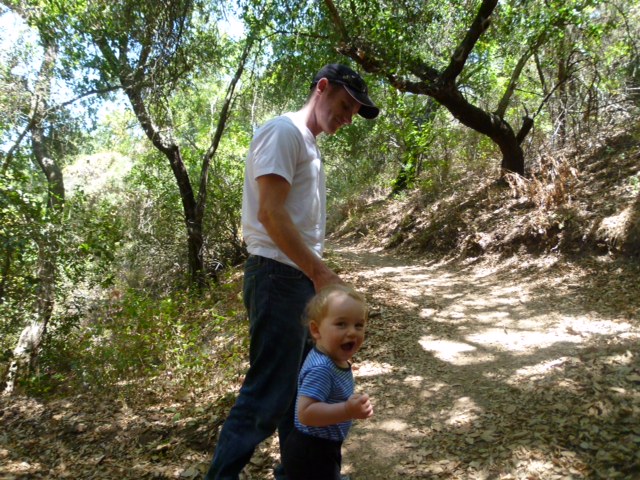 At the end of the 2-miles we stopped in a shady spot to eat some snacks before turning back. While we were hanging out along come a couple of horseback riders! The horses were beautiful and we fed them our apple cores before they continued on their way. Gabriel seemed impressed though they weren't the first horses he'd seen.
After we were all fed and watered we headed back and Gabriel fell asleep along the way. It occurred to us on this hike for the first time, what kind of distance we may be capable of covering. On this trip we were able to do 4-miles total including time for Gabriel to romp around, in about 2 hours or so. We figured it would be feasible for us to someday manage 10-miles in a day if we were backpacking.